Life of the Clockwork

Information

Usage

Book

Users
Life of the Clockwork is a book written by Will Neville and is known to be one of the Two Great Myths.[1]
Description
Edit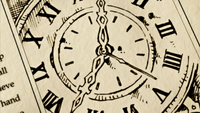 The Life of the Clockwork is one of the two books known collectively as the Two Great Myths. The book tells the story about a pendulum clock that, through the ages, follows a strange destiny as it is passed from one person to another. The book also holds a prophecy saying that "time is etched and then chaos descends".[2] It is believed that when the six pieces of the pendulum clock drawn in the book are brought together, chaos will descend upon the world.[3]
References
Edit
↑

Fairy Tail Anime: Episode 132

↑

Fairy Tail Anime: Episode 129

↑

Fairy Tail Anime: Episode 133